Have you ever feared that no one would want your online course?
​
I'll never forget the first time I promoted an online course.
​
I had spent thousands of dollars creating it, months of time building it, and when it came to sharing it with the world…I was in for a rude awakening.
​
​I promoted it on social media and my email list.
​
I was excited to have over 600 people see the promotion.
​
I was really nervous, but also excited about the great results that (I thought) were about to occur.
​
​When I opened up the course from the 600 people who saw the promotion, I had ONLY one person join.
​
​(And they also joined on the lowest payment plan. Ha!)
​
​To say I was disappointed is an understatement.
​
​Sure, I was grateful for the one person that joined as I wanted to help them.
​
But the biggest disappointment was that I knew the course was awesome! I just didn't have a clue how to sell it!!!.
​
That same product ended up making me well over a million dollars several years ago.
​
I even got sent a badge for it! Ha! (My wife said I can't wear it around the neighborhood.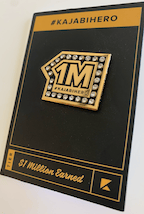 In this week's episode of Expert Edge Podcast, I tackle the big issue that all of us as Expert Business owners face, which is the fear that no one will buy your program.
​
​—>>> Listen on Apple podcasts to "Why No One Wants Your Online Course (And What to Do About It)"​
​
In this week's episode, you'll discover:
The #1 biggest mistake that makes your online course not sell…(even when the course itself is amazing). If you don't learn how to overcome this mistake, sales will never improve
The hard lesson I had to learn that took my course from 1 sale to thousands of sales in under 12 months (This one lesson seems obvious, but most experts don't learn it)
The fastest way to know what your prospect really cares about so that your online course starts selling like hotcakes (note: it's got nothing to do with the product itself)
You'll walk away from this podcast with some really practical strategies to use right away to improve your Expert business!
​
If you are sick of your AWESOME course gathering 'digital dust' because people aren't buying it, then you need to listen to this episode.
​
​—>>> Listen to "Why No One Wants To Buy Your Online Course (And What to Do About It)"​
​
​Colin "Master the sale" Boyd
​
P.S. We are about to start our main FREE LIVE training series for 2021 called "How To Sell From Virtual Stages". It's a live 3-Part Training Series where I'll be going deep into the latest proven strategies you can use to get a flood of clients from virtual stages (even if you've tried and failed in the past)
​
​Learn more about the FREE 'How To Sell From Virtual Stages' Series here​
​
​
​