Let's be honest, most powerpoint presentations suck.
They're too complex, highly distracting and to be really frank, they're ugly.
In today's training, you'll discover some powerful tips for making your presentations pop. You're about to learn the Presentation Pop Method. It will help your presentations look elegant, look beautiful, be highly engaging and support what you have to say instead of distracting from what you have to say.
There are four ways that you could build presentations. Let's think about it from a spectrum of "amateur to professional" and from "slow to fast."
If you could do an amateur version of a powerpoint presentation and it's slow, I would say the presentation is a FLOP. If you produce it slowly but its professional, then I think that's just a pain in the behind, and it's a PLOP. If you do it fast, and it's amateur, then really what you're producing is SLOP. Now the goal of this video here is to show you how to produce something fast and professional, which is about POP.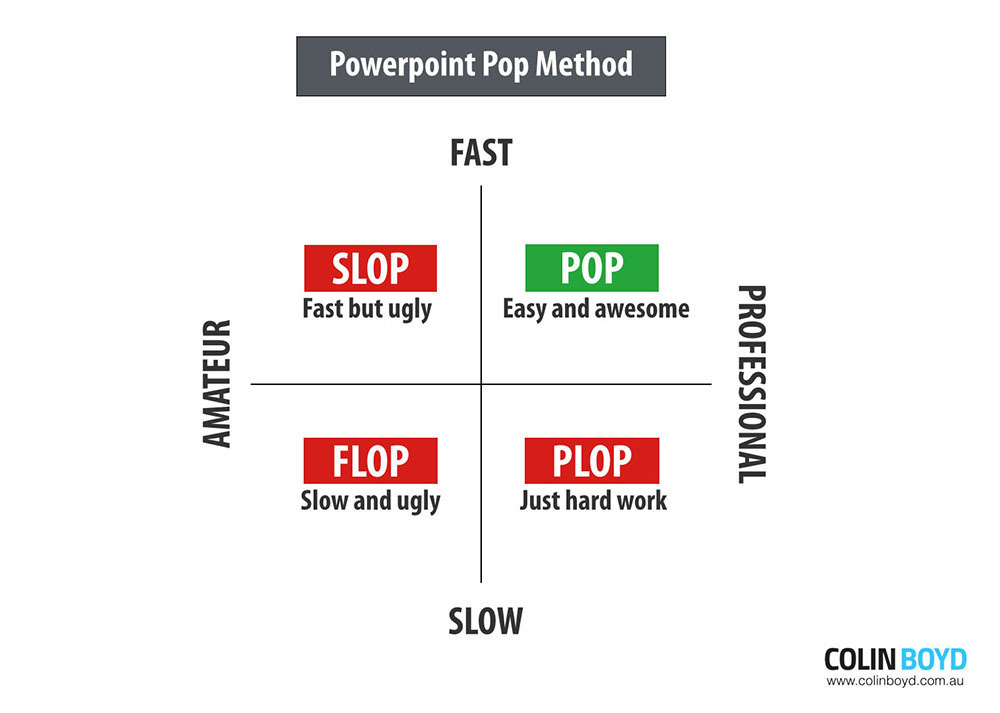 So let me show you How to make your Powerpoint POP.
1. Think Simple
The first big idea around how to make your presentations pop is to think simple, not complex. The goal of a powerpoint is to reinforce what you're saying, not to say what you're saying. A lot of people see their powerpoint as the presentation, but when you think about it, people don't come to see your powerpoint slides, they come to see you. You, not the powerpoint, are the presentation.
So the first idea is simplify. What this means is staying away from 5 to 10 bullet points on one slide. Stay away from really small font (I would encourage you to have 30+ for font size). Have one or up to three concepts per slide. Have one big image that reinforces what you're trying to say rather than having people read out from the powerpoint the exact same thing you're saying.
No one has come to see you read to them. People have come to hear you talk to them. So create a powerpoint that is simple, elegant and reinforces what you have to say.
2. Go Premium
The second key point around making presentations pop is to go premium. What I mean by this is stay away from the really cheap things like clip art or free images. I would recommend you spending one or two dollars on an image and actually finding a premium, royalty free, beautiful image. If you can find a beautiful image that reinforces what you have to say, it will add a layer of elegance and sophistication to your presentation.
Please stay away from clipart. (That point deserved its own line!)
Back in the 90's when clipart was created it might have been cool, but not now.  Let's step up to premium images.
Here is a list of sites I use to get great images:
3. Invest in a great Template
I think you should invest in buying a nice template.
What this does is make your presentation building 'fast' rather than 'slow'. So instead of creating something that is really nice slowly, you can create it fast. You can either hire a designer, which is the way I usually go because I want to create a unique look and feel that no one else has. Or you can jump on to one of the more premium template websites (I'll leave a bunch of them below) that you can just purchase them around $30 to $50 to $100 for a really beautiful presentation template that you can then work with.
Put your premium images on, put some simple concepts on there and it will reinforce and add beautiful elegance to what you have to say.
Powerpoint Template sites:
http://keynotepro.com (Mac only)
http://www.slidecomet.com (Premium)
http://graphicriver.net/popular_item/by_category?category=presentation-templates (Cheaper)
I've got one question for you: What's the hardest part about building a presentation for you?
Please comment below.
If this was valuable, like it, tweet it, share it. If you're on YouTube, please subscribe. Or if you want to subscribe to my email newsletter, there's an area below that you can receive these each week.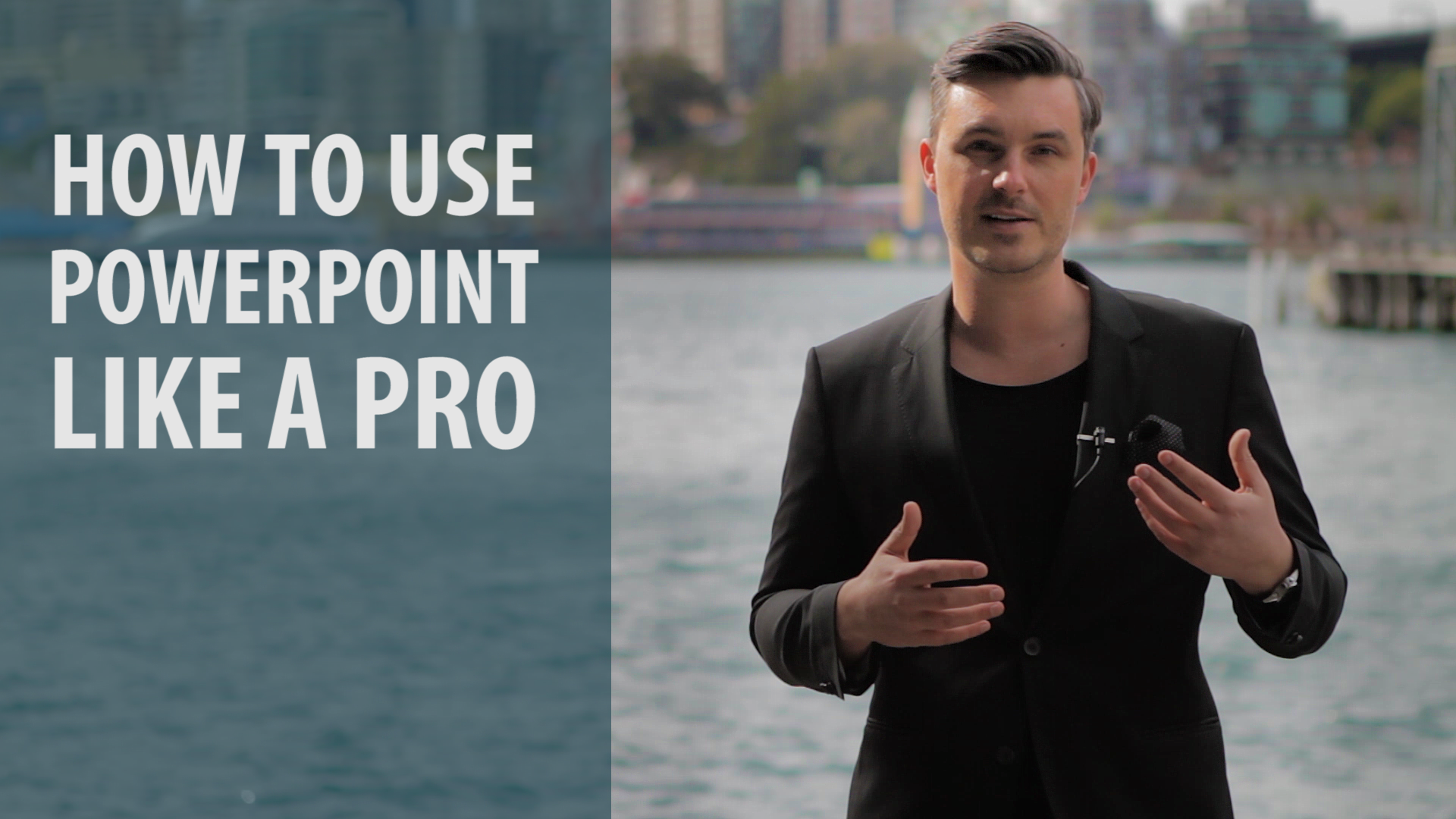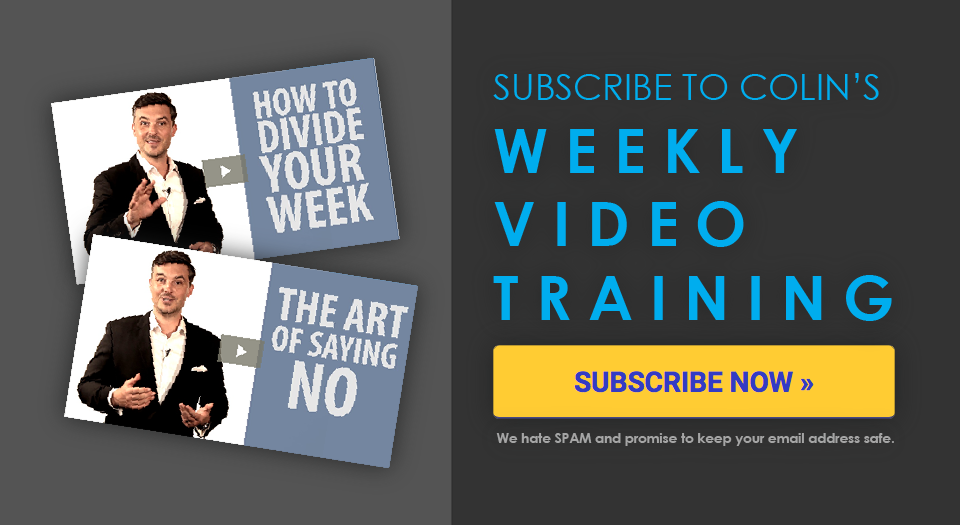 Discover to Deliver a Highly Persuasive Presentation and Move People into Action
Join Colin for a free masterclass on persuasive presentation (without coming across pushy or sales-y).
On this workshop you're going to discover:
Proven strategies that the top 1% of influencers use to become leaders in their marketplace.
You'll learn how they craft and deliver presentations to achieve massive impact.